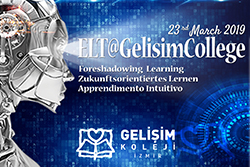 Izmir Gelişim Koleji cordially invites you to the nationwide ELT conference
" Foreshadowing Learning "
on March 23rd, 2019.

Wir als İzmir Gelişim Koleji freuen uns, Sie zu unserer ELT Konferenz
" Zukunftsorientiertes Lernen ",
am Samstag, den 23. März 2019, einladen zu dürfen.


Izmir Gelişim Koleji vi invita cordialmente alla prima conferenza ELT
" Apprendimento Intuitivo ''
il 23 Marzo 2019.